State Of The Art Facility
With Bio-Metric Iris Scan Security
Our facility is designed to be very Secure, and Private.
Safe Haven Private Vault's security includes fortified steel walls and reinforced bulletproof glass.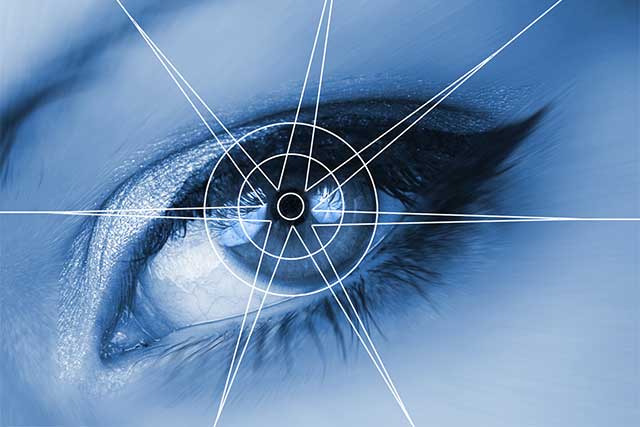 Surveillance and Monitoring Security includes Motion Detectors, and Pressure Recognition Sensors, along with over 30 High-Definition, closely Monitored Cameras.
The facility is equipped with a Fire Damage Prevention System, Armed Security Personnel, and Backup Electric Generators for Sustained Energy during Power Outages.
Your Personal Access is secured through Multiple Coded-Entry Doors, a Bio-Metric Iris Scan, and your Personal set of  Keys that give you entry into your Private Safe Deposit Box.
Iris Recognition is an automated method of Biometric identification. It uses mathematical pattern-recognition techniques on video images of the irises of an individual's eyes, whose complex patterns are unique, and stable. Iris Recognition is estimated to be 10 times more accurate than fingerprinting.
The Benefits of our Smart Camera Analytics Software:
Facial Recognition
License Plate Recognition
Intelligent Video Motion Detection: Ambient and Irrelevant noise such as lighting variations and tree movements are filtered out,  the Intelligent System only detects motion applicable to the Security of the Facility.
24/7 Human Monitoring
Automatic perimeter monitoring and secure area protection. The Intelligent System automatically detects any moving object that crosses the defined line, triggering the system for a human to monitor that space.
Our Surveillance is Covered by 24 Hours HD Surveillance Cameras with Night Vision.
Our High-Resolution Hikvision Cameras have:
Night Vision Distance of almost 100ft
4 Megapixel Recording
Full HD 1080p
Dual video streams
Real-Time Centralized Monitoring
8mm/4mm/6mm fixed lens
120dB wide dynamic range